Complete Circuit: Trulaske grad turns networking into career in electrical distributor sales
Image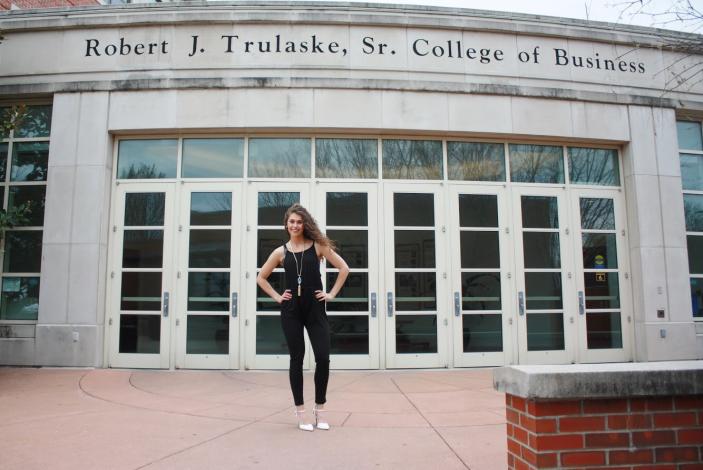 By Stephen Schmidt
When she was a freshman at the Trulaske College of Business, Kaitlynn Berry, BS BA '18, could have never envisioned her current career path.
Then again, one could say that it was almost as if a light switch was flipped during her sophomore year — as a networking opportunity at a conference would lead to an internship with Siemens, one of the largest industrial manufacturing companies in the world, in the summer of 2016.
Berry currently is based out of Houston as an electrical distributor sales engineer, where she maintains sales relationships with more than 40 major clients located throughout Texas and the Lower Midwest in a footprint that includes Houston; Wichita, Kansas; St. Louis; and her hometown of Kansas City. She sells a multitude of electrical power distribution products, including residential load centers and commercial switchgear.
She was recently named as part of the "30 Under 35" in tED magazine, the main trade publication of electrical distributors directly connected to the National Electrical Manufacturers Association, as one of the rising names in her field — out of the approximate 300 nominees.
Before all that, though, there was an invitation from a Trulaske advisor to apply for a scholarship to attend the Women in Industry Forum held at the annual conference of the National Association of Electrical Distributors. Berry was one of nine college students chosen.
"I didn't know about the electrical industry at all," said Berry, who turned 25 this summer. "I just thought it was a good opportunity to network."
Berry made a strong enough impression with those in charge of the forum that she was offered an internship in construction sales with Siemens at its offices in Denver in the summer of 2017. She would go on to accept a position with Siemens in a one-year sales development program based out of Portland, Oregon, after graduating from Mizzou in 2018 — and then move to Houston in her current role in the summer of 2019. Within a span of less than three years, she had lived in three different time zones as a member of the Siemens community.
In December, Berry and her fellow award winners will be honored at the Women in Industry Forum at the same as the NAED national conference, taking place this year right down the road in San Antonio.
"She is a barrier breaker," said Wayne Keene, a former assistant teaching professor of marketing at Trulaske. "She is not going to let the status quo keep her from her goals. She went into a very male-dominated industry at Siemens, and she was going to be heard and she was going to be successful.
"She made her path. A lot of us might have helped and added to it, but she was the one knocking down the doors. She's just a bundle of energy there."
Berry said that it was in Keene's personal selling class that she was able to learn a bit of wisdom that has served her well thus far: "Be comfortable with being uncomfortable."
And that sentiment provides the foundation for her own advice to Trulaske students: "Don't be afraid to ask questions. If you're interested in something, just ask about it. Put yourself out there, and there is no such thing as 'looking stupid.'"
Working in and out of the classroom
Berry grew up in the Kansas City metro area as an only child of two teenage parents who taught their daughter the value of hard work — and balancing her time — from an early age.
She ran a business in which she would mow lawns and do other seasonal yard work. When she turned 16, she began a job working as a carhop at a Sonic Drive-in. Throughout her time at MIzzou, she would maintain a part-time job, including serving as an economics tutor at Trulaske from 2016-18.
Berry, though, would always find time to study. If she could be whisked away to any part of the Mizzou campus at a moment's notice, she would choose the coffee shop on the ground floor of Ellis Library.
"I really love to learn," Berry said. "By the second semester of my freshman year, I really dove into my education itself and what I was there for and really just embraced learning."
By her sophomore year she had found an organization that allowed her to feel a different sense of community at Trulaske: the Diverse Student Association. Berry first found out about the group through a roommate, Brittany Omotosho, BHS ' 17 who was a health science major with a business minor. The two remain close friends.
In the DSA, Berry found an organization that reminded her of the tapestry that composed the student body at Kansas City North High School, a school community in which members spoke more than 40 native languages, she said.
"I felt like it is important — especially in the business school — to really embrace diversity," Berry said. "So it was something that I made sure was a part of my life: to do anything that I could to help other people feel heard and understood."
And the Trulaske advisor who brought the Women in Industry Forum to her attention? That was Setty Huaman, BS BA '12, MS '19, who helped advise the DSA program while she worked as an external relations specialist at Trulaske.
"It's a full circle," Berry said.
On top of that, in September, Berry will be moving back to Kansas City to focus on the markets there and in Wichita and St. Louis — allowing her more time to visit Columbia, where she does have some customers as well.
"My family's very excited for me," she said. "They're ready for me to come home."