Commencement ceremony for one: Coast Guard veteran receives his BS BA at age 98
Image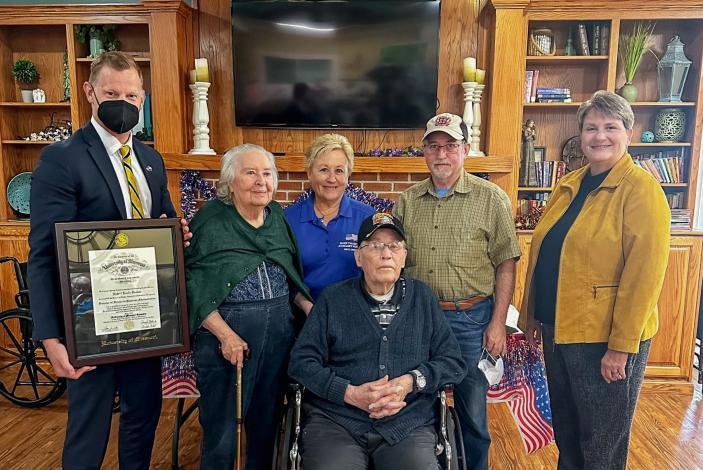 On November 11, 2022 – fittingly, Veterans Day – the University of Missouri awarded a bachelor's degree to United States Coast Guard veteran Robert L. Deason, who last attended classes on campus in 1951.
In late October, one of Deason's children reached out to the university by way of the Vice Provost for Undergraduate Studies Jim Spain, asking if it would be possible to consider him for an honorary degree, as he left the university just a couple of classes shy of graduation.
A thorough review of Deason's transcript by university and Trulaske College of Business administrators resulted in a surprising outcome: Deason was not eligible for an honorary degree, but instead for the actual degree itself, when past courses that met current academic requirements and his military education were factored in.
"I was surprised that we still had the original records of the courses that he asked we consider transferring," Trulaske Associate Dean Gay Albright said. "Once Interim Dean Chris Robert reviewed Mr. Deason's academic record, the MU Registrar quickly provided the diploma so that we could award it on Veterans Day."
On November 11, Associate Dean Albright traveled to Deason's residence in Monroe City, Mo., to present him with a diploma for a bachelor of science in business administration degree. She was joined by Monroe City native Ryan Murray, director of Trulaske's Graduate Programs Office (GPO), and by U.S. Coast Guard veteran Matt Schmidt, assistant director of alumni and corporate relations for the GPO.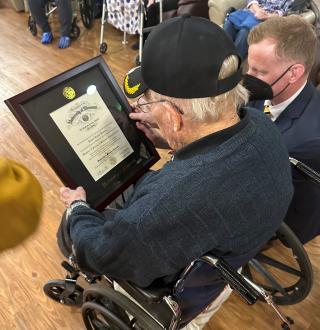 "It was an honor to return to recognize Mr. Deason and assist in awarding this degree in my hometown," Murray said. "Sometimes in life, things go full circle, and experiencing this with Mr. Deason reminds me why I work at Mizzou."
The celebration also included members of Deason's family, including his son, Les Deason, and his daughter, Deb Carey.
Like many of his generation, Deason had an oft-interrupted path to graduation.
In 1943, he was drafted during his senior year of high school before graduation, thanks to World War II. (His alma mater, Hannibal High School, awarded him a diploma in 1944.) As a member of the Coast Guard, he was sent to the receiving center in San Francisco, attended training in Florida and then served aboard the Admiral Lee W. Ebberly in Korea and Japan.
After his discharge from the Coast Guard in the summer of 1946, he returned to Missouri and attended Northeast Missouri State Teachers College (now known as Truman State University) in Kirksville for three years. Then in 1949, two things happened: he transferred to the University of Missouri in Columbia and he met his wife, a student at Hannibal LaGrange College, on a blind date. After he was married in the fall of 1950, he attended classes while his wife worked as a mail clerk in Jesse Hall.
By the spring of 1950, the Deasons were expecting their first child. Deason left the university just shy of completing his degree so he could go to work.
Robert L. Deason's career kept him in central and northern Missouri. He owned a service station in Palmyra, in the northeast corner of the state, before attending barber school. In 1957, he moved to Mexico, Missouri, and worked at the White Front Barbershop. He remained in Mexico as a barber for 20 years – owning and operating the Mexico Barbershop. In 1977, he sold the shop to his business partner and began working at A.B. Chance Co. in Centralia, Mo., until his retirement in 1991.
Receiving his degree was a meaningful experience, even though decades had passed since he last attended classes at Mizzou. "He always valued education," son Robert Deason said. "He spent most of his life mentoring youth, whether through scouting, as a father figure to fatherless boys or teaching golf to kids in his later years."
Learn More: https://khqa.com/news/local/local-man-receives-college-degree-70-years-after-leaving-school