College presents alumni, student awards at annual Honors Luncheon
Image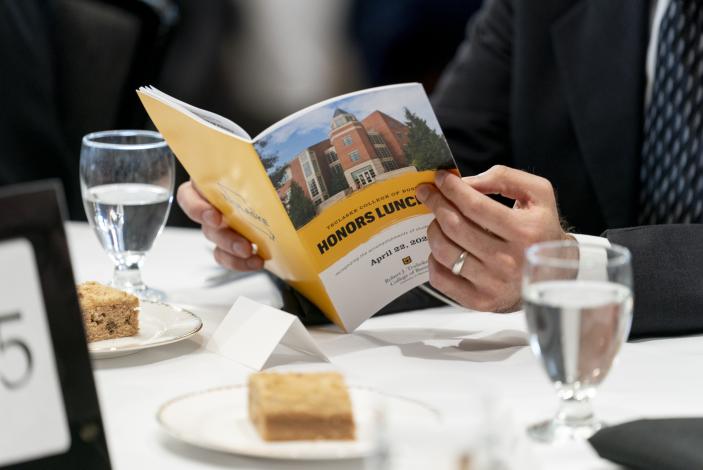 On Friday, April 22, the Trulaske College of Business recognized excellence among alumni and students at its annual Honors Luncheon event. Held in Memorial Union on the MU campus, the gathering showcased excellence in leadership, student involvement and service to the college.
Awards presented:
Citation of Merit
Annually, up to ten Trulaske College of Business Citations of Merit are awarded. The recipients are selected by a vote of the entire faculty of the college. In deciding upon those individuals to be placed before the faculty, the Faculty Policy Committee reviews each candidate in relation to accomplishments in his/her career; involvement with the college through board activities, recruitment or other collaborative programs; and financial support of the college.
Christopher C. Menz
BS Acc '82 University of Missouri
Business Development/Relationship Partner
Armanino LLP
Chris Menz is a super-connector of people and businesses and serves as business development/relationship partner in the St. Louis office of Armanino LLP, a top-20 accounting and consulting firm. He currently leads Armanino's Midwest expansion, with offices in St. Louis and Chicago and the possibility of more to come.
With 40 years of experience in the accounting profession, Menz is an expert in business development, service delivery, project management and staff development. He serves as the client relationship partner with many of the firm's larger clients, and maximizes relationships based on his experience purchasing, selling, managing and delivering professional services.
Menz began his career at KPMG, where he provided audit services to middle-market companies before moving into an in-house CFO role with a client. He is a member of the American Institute of Certified Public Accountants (AICPA) and is a licensed CPA in Missouri.
A native of Decatur, Illinois, Menz attended Mizzou on a golf scholarship and is greatly appreciative of the relationships he built and the experiences gained while a student. He and his wife, Terri, as well as their four adult children, reside in the St. Louis metro area. Menz and his wife are raising their eight-year-old grandson, who keeps them young.
Janine A. Orf
BS Acc '81 University of Missouri
Controller
BECS Technology, Inc.
Janine Orf is controller of BECS Technology, Inc., an electronics manufacturer in the St. Louis area.
Before joining BECS, she served as vice president of investor relations at Patriot Coal Corporation, and previously led the investor relations function at two other public companies, TALX Corporation and MEMC Electronic Materials, Inc. During her tenure at these companies, she also headed the internal audit department, prepared SEC filings, implemented the Sarbanes-Oxley Act, established a shared services organization and led the general accounting function. Orf started her career at Deloitte, serving manufacturing, utilities and nonprofit clients for eight years.
Orf has been actively involved in professional organizations during her career, serving as an officer and a board member of the St. Louis chapters of the National Investor Relations Institute and the Institute of Internal Auditors. Currently, she serves as treasurer of the Boys & Girls Clubs of St. Charles County and volunteers with St. Louis nonprofit Sweet Babies.
Orf graduated summa cum laude from Mizzou and is a member of the MU School of Accountancy Advisory Board and the Griffiths Leadership Society.
Orf and her husband, Geoff, have two adult children, Andy and Ginny; a daughter-in-law Brooke; and a grandchild due in June. 
Jeff Vogel
BS Acc '90 University of Missouri
Chief Financial Officer
Walsworth
Jeff Vogel is the chief financial officer for Walsworth, a privately held company that ranks among the largest domestic printing enterprises. He plays a critical role in managing the financial and business affairs for both the company and the ownership family. His leadership in executing an opportunistic and fiscally prudent acquisition strategy has been a key factor to Walsworth's continued growth and success.
After graduating from Mizzou, where he was a Curator's Scholar, Vogel accepted a position with Arthur Andersen, one of the then-largest professional service firms. Five years later, he joined public accounting firm Williams Keepers. He later became chief financial officer for ABC Laboratories, an agrichemical and pharmaceutical development firm in Columbia. After helping the company secure private equity funding, he founded Financial Management Solutions, a boutique consulting firm that provided financial management expertise to a middle-market clientele in Mid-Missouri, then joined Walsworth.
Throughout his career, Vogel has been actively involved in civic and professional organizations such as the United Way, Boys and Girls Club, YMCA, Missouri Chamber of Commerce, Missouri Regional Bank, and the Brookfield R-III Board of Education. He also has extensive service to Mizzou: he is currently president-elect of the Mizzou Alumni Association, and is a member of the university's Jefferson Club, the college's Herbert J. Davenport Society and the School of Accountancy Advisory Board. In recognition of his community engagement, he has been named to Columbia's inaugural class of "40 Under 40" and was selected as a finalist for Columbia's Volunteer Hero Award. 
Vogel says he is most proud of his role as husband and father. He and his wife of more than 30 years, Julie, reside in Brookfield, Missouri. His son, Tyler, is also employed with Walsworth and his daughter, Emily, is a graduate of Mizzou's Sinclair School of Nursing and is employed with MU Health Care.
Recent Alumni Achievement Award
The Recent Alumni Achievement Award recognizes outstanding volunteer support of the Trulaske College of Business as well as the professional accomplishments of alumni who received their degree 15 or fewer years ago. The award is presented annually to a maximum of two alumni. Recent Alumni Achievement Award nominees are screened by the Faculty Policy
Committee and approved by the college's faculty. Selection criteria include active involvement with the college through advisory boards or other collaborative activities; professional accomplishments early in his/her career; and a demonstration of leadership for or inspiration to students and other alumni through participation in university or college events and/or social and community service.
Eric Vogelweid
BS Acc, MAcc '09 University of Missouri
Assistant Vice President and Controller
University of Missouri System
Eric Vogelweid serves as assistant vice president and controller of the University of Missouri System. He is responsible for the accounting operations of the system, including issuing internal and external financial statements, maintaining a comprehensive system of internal control to mitigate risk, coordinating external audit related activities across the system and ensuring that reported results comply with generally accepted accounting principles.
Prior to joining the system in 2013, Vogelweid worked for Boone Hospital Center as the manager of Strategic Planning & Physician Services, where he coordinated the development of the hospital's strategic plan and managed the hospital's acquisition of several physician practices. Before joining Boone Hospital, he worked for PriceWaterhouse Coopers, LLP, as an auditor, spending a significant portion of his time on the University of Missouri. 
Vogelweid graduated from Trulaske in 2009 and received the Federation of Schools of Accountancy Award as the master of accountancy program's top graduate. He is a licensed Certified Public Accountant in Missouri.
Jean Whitley
BS Acc, MAcc '17 University of Missouri
FSO Assurance Senior
EY
Jean Whitley was born and raised in Kansas City, Missouri. He graduated from Raytown South High School as one of 10 valedictorians. From there, he studied accounting at the University of Missouri.
Throughout his time at Mizzou, Whitley was involved in Vasey Academy, the Trulaske College of Business Ambassador Program, Business Week, Mizzou Alternative Breaks, Mizzou Forte and Community 360. Through his involvement with Vasey Academy, he was introduced to a recruiter from EY, made an impression and was offered an internship for three consecutive summers. The internships led to a full-time offer post-graduation with the company.
Whitley has been with EY as an auditor for five years within its financial services sector at the Kansas City office. He has utilized his time with the company to learn, grow, give back and pursue his various passions.
Whitley currently sits on the Vasey Academy Advisory Board within the Trulaske College of Business as its director of communications and serves as a mentor to Vasey Scholars. He spends his free time singing, playing instruments, cooking and traveling. Whitley says he is honored to be a recipient of the Recent Alumni Achievement Award and will continue to grow more tiger stripes.
Top Students in Each Discipline
Accountancy Top Five
Alicia Dyer, Sara Mocker, Ashley Osborne, Matthew Rothermich, Kate Ruediger
Economics Top Five
Joe Graves, Clare Herrington, Lauren Isbell, Josh Kliethermes, Carson Schieber
Finance Top Ten
Danielle Bishop, Lauren Bishop, Austin Cleveland, Tyler Hagan, Zach Herberholt, Eric Humphrey, Lindsay May, David Retherford, Ashtyn Winkler, Grace Wogomon
International Business Top Five
Trinity Akers, Danielle Bishop, Lauren Sherwood, Fiona Thurow, Jordan Visina
Management Top Ten
Trinity Akers, Jessica Baan, Connor Cochran, Bryson Ferguson, Jason Frost, Justin Keehler, Connor Lovelace, Mason Seymour, Merrick Silvis, Kate Tegtmeier
Marketing Top Ten
Brecken Belgarde, Mackenzie Burnett, Grace Donovan, Spencer Foster, Hannah Higgins, Grant Houston, Morgan Metcalf, Greg Pierson, Kate Pluenneke, Taylor Siebert
Real Estate Top Five
Caroline Anderson, Josh Kliethermes, Kaitlyn Noon, Chris Nordstrom, Dylan Stovall
Student Awards
Delta Sigma Pi Key
Kate Pluenneke
Ed Rapp Award
Kate Ruediger
Emerging Leader Award
Garrett Frey
Study Abroad Marketing Team Member of the Year
Kelli Rinkenberger
Study Abroad Marketing Design Team Member of the Year
Addison White
Student Leadership Awards
Rachel Etwaroo, Bridgette Jackson, Johnathan Kimble, Imani Penny, Jordan Walters