Camp Trulaske provides a fun welcome for incoming business students
Image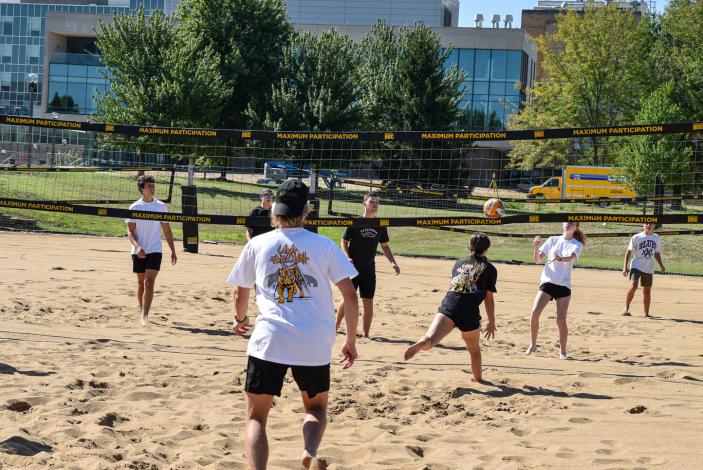 Last week, the Trulaske College of Business hosted Camp Trulaske, an annual event designed to showcase Mizzou, the Trulaske College of Business and the City of Columbia to the college's incoming first-year and transfer students.
Hundreds of students attended the three-day event, which featured a sand volleyball tournament, a hypnotist, opportunities to meet with faculty and hear from Interim Dean Chris Robert, and a live concert at sunset on Traditions Plaza.
Dan Nicewarner and Kate Elmore, both coordinators for recruitment at Trulaske, led the event and said that the ultimate goal was to provide incoming business students with a glimpse into what life at Mizzou would be like after they arrived on campus.
"Camp Trulaske was designed all around the student experience. We want students to arrive on campus and immediately have opportunities to meet other business students, and we want them to get a sense of the culture and community of Mizzou's business school," said Nicewarner.
Camp Trulaske also provides students a chance to interact with upper-level business students, who serve as camp counselors throughout the event. Jack Deters, a senior studying accounting, was one of this year's counselors.
"Camp Trulaske is an amazing opportunity for incoming students to gain insight into the Trulaske College of Business, make new friends and get a head start at Mizzou before the first day of classes. I loved meeting so many new students who were eager to learn and ask questions about all things Mizzou," said Deters. "My favorite part of camp is seeing students begin making new connections and memories with classmates they will be with for the next four years. These connections can make such a difference in the lives of new students, and I am so grateful I had the opportunity to help facilitate these connections between classmates, mentors and faculty."
The event kicked off on Wednesday, August 17, with an ice cream social and yard games on Carnahan Quadrangle. Students picked up their Camp Trulaske swag in Cornell Hall and met their counselors and groups. Thursday began with games on Stankowski Field and in MizzouRec, followed by an introduction to some of Columbia's favorite pizza, with slices from Shakespeare's, G&D Pizzaria and PaPPo's Pizzeria & Pub. The afternoon included a campus scavenger hunt, an interactive hypnotist show in Bush Auditorium and a live performance by The Brink, a Columbia-based band, on Traditions Plaza. The final day of camp included an address from Dean Robert and the chance to hear from a panel of Trulaske professors before Camp Trulaske Lunch, an opportunity for all campers and Trulaske staff and faculty to join together on the quad.
More information about Camp Trulaske 2023 will be available in the spring. Follow Camp Trulaske on Facebook and Instagram for more pictures from this year's camp and to be the first to know about Camp Trulaske 2023.