Image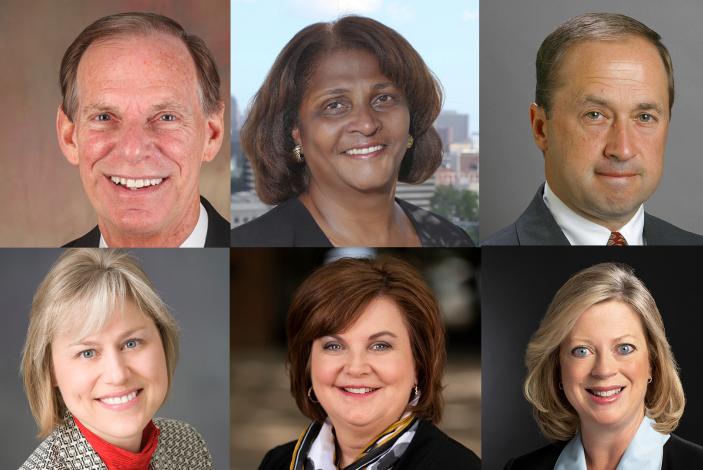 by Kelsey Allen
Trulaske College of Business alumni are leaders in their fields — and at the university. Since 2011, five have served as president of the Mizzou Alumni Association (MAA), and the president-elect is a College of Business grad, too. To these six volunteers, leadership isn't simply a position. It's a lifestyle, a mindset and a way of moving through the world that makes others want to follow.
Pamela M. Oberdiek, Bus '84
Retired from Hallmark Cards Inc.
MAA President from 2011 to 2012
Platte City, Missouri
When someone suggested Pamela Oberdiek should get in line to serve as volunteer president of the Mizzou Alumni Association, she didn't think they were serious. After all, she didn't actually graduate from Mizzou. But the University of Missouri did set the foundation for her collegiate and business career.
Oberdiek arrived at Mizzou in 1982 from the small town of Weston, Missouri. Of the 55 students in her graduating class, only a handful went straight to college. Although Oberdiek was the first in her family to attend a public university (her older brother attended the U.S. Military Academy), she still followed in her father's footsteps. "I watched my dad do volunteer work pretty much my entire life," she recalls. "He was a treasurer for an organization, and back in the day, he was always running a 10-key and doing the books. It looked interesting to me."
Oberdiek spent two years studying business at MU (which makes her an official alumna) before she transferred to University of St. Mary in Kansas, finished her degree and began working for Hallmark Cards. Although she didn't leave Mizzou with a degree, she didn't leave empty-handed, either. Her sorority, Delta Delta Delta, provided lifelong friendships, and the university provided the academic baseline needed to complete her degree and go on to also earn an MBA.  
So when, a decade later, one of her husband's (Randy, BS Acc '84) business associates asked the couple to help out at a Kansas City alumni chapter picnic that raises money for scholarships, it was easy for Oberdiek to say yes. "I was a Platte County Alumni Association scholarship recipient my freshman year," she says. "I always appreciated that scholarship and wanted to give back."
She met Ray Phillips — known as Mr. Mizzou in Kansas City — and his wife, Mary Sue, who quickly welcomed her and Randy into the fold. They started showing up at tailgates, watch parties, Founders Day celebrations and fundraisers. It wasn't long before Phillips called them out, though he was really calling them in: "You know, you guys are showing up at everything and you're willing to volunteer for stuff. Have you thought about being on the alumni board in Kansas City?"
Oberdiek didn't have to think too much more about it. She and her husband both joined the board, and in 2006, she became the chapter's second female president. Following her term, Oberdiek accepted a position on the MAA national governing board. When she was nominated to get in line to be president, she was ready.
Oberdiek worked at Hallmark Cards in Kansas City for 35 years, serving in strategic roles with increasing responsibilities across almost every aspect of the business from supply chain and distribution to operations and marketing to finance and data management. Presiding over MAA didn't seem much different. "You're really running a business," she says. "You're marketing the alumni association and the university, managing financials and, most importantly, supporting people."
During Oberdiek's presidency, she helped usher the university into the SEC, listening to constituents, calming concerns and inspiring support amidst controversy. She also prioritized increasing the school's endowments. While Oberdiek was president, the association launched the Mizzou Traditions Fund, raising more than $50,000. Serving on the MAA governing board helped Oberdiek at work, too. "As alumni, always looking for top talent to bring into your organization. Frequently being on campus is a great way to meet many of Mizzou's best and brightest students."
But for Oberdiek, as for many alumni volunteers, it all goes back to people she's met and the relationships she's formed. She also serves on the Crosby MBA Advisory Board and the Mizzou: Our Time to Lead campaign cabinet. "You get to meet so many amazingly talented people," she says. "I find you get way more out of it than you ever put into it."
And it all started with just another volunteer asking if she would help.
Bruce McKinney, BS BA '74
Retired Vice President of Finance and Chief Financial Officer of Community Blood Center of Greater Kansas City
Retired Vice President and Treasurer of Hallmark Cards Inc.
MAA President from 2017 to 2018
Overland Park, Kansas
Bruce McKinney always knew he would attend Mizzou. For the Jennings, Missouri, native, it was just what you did. "Going to Mizzou was like going from junior high to high school," he says. What he didn't know was what he wanted to study.
Apollo 11 had just landed on the moon, and everything was about NASA and rocket ships.
Good at math and science, McKinney enrolled in the College of Engineering. But after a semester, he knew it wasn't the right fit. "My spatial relations were abysmal," he recalls. "You sure as heck don't want to go over a bridge that I've put together."
Looking for a degree that would offer the ability to use the left and right side of his brain, McKinney chose business. He liked the nuts and bolts of accounting and the problem-solving of corporate finance. As recruitment chair and president of his fraternity, Delta Upsilon, McKinney applied the sales, management and leadership skills he was learning in the classroom.
McKinney's business degree launched him into one of the top MBA programs in the country, Kellogg School of Management at Northwestern University in Illinois, and his career took him from Marathon Oil to Marion Merrell Dow (now Sanofi-Aventis) and eventually Hallmark Cards and the Community Blood Center of Greater Kansas City.
For 20 years, McKinney wasn't that attached to Mizzou. Sure, he and his wife, Teresa, BS Ed '75, cheered for the Tigers. But careers and children kept them from being active in alumni activities. When their son Chris, BA, BA '01, JD '08, enrolled at MU in 1997, McKinney felt a renewed sense of Tiger pride. He became an alumni adviser at DU and started showing up on campus more and more.
Then McKinney got a phone call from a colleague at Hallmark — and the president of the Mizzou Alumni Association. "Don't you want to come and work with the alumni association?" Pamela Oberdiek recalls asking. She needed someone to serve as an at-large representative, someone with an outside perspective, knowledge of best practices and an affinity for Mizzou.
"I'd been on boards, I'd been on committees and I could see that the association knew where they were going," McKinney says. "They had very specific goals. They reported against them. They had benchmarks with similar organizations. You could tell they were shining a light on their operations to make sure they were doing the right things and that they were performing. And I wanted to be around something that knows where it's going and that's trying to get better."
So he said yes again and again and again until he eventually stepped into the role of president (which just happened to be the same year he was president of the DU international fraternity board). His year in office coincided with then-Chancellor Alex Cartwright and University of Missouri System President Mun Choi's first year on campus.
Guided by his management philosophy — It's not just what you do but how you do it — McKinney helped the new university leadership team thread the needle. "You can't do a single thing in life that's worthwhile by yourself," he says. "You have to figure this out in a way that inspires others to go along with you. Classic management courses at MU taught me that. Not only did that help me in my career, but I was able to apply some of it back in support of the university."
During his presidency, McKinney helped MAA chapters engage with a broader set of alumni through career networking and chapter-based community volunteerism. By listening to alumni concerns and advocating for them, he built credibility with other alumni and MU's administration.
But for McKinney, the son of a high school principal, the highlight was supporting the development of the college students. "I can go in there and apply business principles and put a good strategic plan together and put metrics in place and move the needle," he says. "But if it all feeds the development of young people and the health of this organization, that's extraordinarily gratifying. And at this point in your life, that's your paycheck."
Andrea Allison-Putman, BS BA '85
Chief People & Inclusion Officer at YMCA of Greater Kansas City
MAA President from 2018 to 2019
Kansas City, Missouri
Andrea Allison-Putman thought she was going to be an accountant. The youngest of nine, she grew up in Columbia watching her sister and brother-in-law run the family's small trash disposal company. Accounting, they told her, is a highly regarded profession with job security and opportunities for advancement. And at Mizzou, she took classes with professors who wrote the textbooks and conducted the research that appeared in them.
Then she walked into a management class on perception. The professor passed out a strip of paper to everyone in the room and asked them to put it in their mouth. Among a room full of students who thought the paper tasted gross, Allison-Putman tasted something sour. "I put sugar on everything — green beans, chill, corn — so my taste buds are different," she says. "It opened my mind not only to the differences that we have but also to how important it is for us to have differences." Allison-Putman switched her emphasis to administrative management and has been advocating for diversity and, more importantly, inclusion ever since.
"I do a lot of work around not just engagement or retention of staff to drive organizational results but also about how welcoming and inclusive we can be and how that drives outcomes for business," says Allison-Putman, who has combined human resources management with community relations in numerous professional and volunteer roles, including H&R Block, the International Relations Council, Harvester and the Greater Kansas City Hispanic Collaborative. "You allow different perspectives to weigh in so that you have a better impact or a better end result."
An invitation from MU in the early 2000s demonstrated to Allison-Putman that Mizzou was interested in inclusion, too. Mizzou was hosting a focus group discussion of how the university could better recruit students in Kansas City and wanted to hear what she had to say. "Being included in a dialogue about the future excited me," Allison-Putman says. At that meeting, she met Jackie Clark, BA '84, who encouraged her to get involved with the alumni association.
She joined the Griffiths Leadership Society, an MAA program that connects women leaders with ties to MU, and eventually took on a leadership role. "I got the bug at this point." In 2011, she joined the MAA governing board as chair of the Diversity Committee, and in 2016, she supported the grassroots effort to revive the Mizzou Black Alumni Network. "It was very important to me that all alumni felt that there was a place for them to be engaged back at Mizzou," she says. "Even if someone had a challenging time at Mizzou, wouldn't you want to make it easier for someone else? Wouldn't you want to make it so our future leaders are set up for success?"
In 2018, Allison-Putman called on her experiences as a Black student at Mizzou, her expertise as chief people and inclusion officer for the YMCA of Greater Kansas City, and her passion as a three-time Mizzou parent when she became MAA president. During her term, she reshaped the Diversity Committee into the Diversity and Inclusion Committee.
"It's not just about diversity," Allison-Putman says. "Diversity means being invited. Inclusion means you're really there and you're participating and you're part of it. I want people to know that they're invited to come back to Mizzou and help in the best way that they can, whether that's through giving to Mizzou, volunteering service, participating in the governing board or at the local chapter level or in the various affiliate groups, or even offering their opinions. We have to have all the voices at the table."
Steve Hays, BS BA '80
Partner at RubinBrown LLP
MAA President from 2019 to 2020
Des Peres, Missouri
Steve Hays didn't dream about being a successful accountant. He didn't really have dreams growing up. "I didn't know what was out there," says the North St. Louis County native. "That's why when I went to Mizzou, it greatly influenced where I wound up."
At Mizzou, Hays followed his entrepreneurial spirit to the College of Business. "I was the kid who always had the stand out in his front yard selling popcorn and Kool-Aid," he says. After his first course with Professor Loren Nikolai, he declared accounting as his major (he eventually added finance, too). It was the right choice. He has spent the past 37 years rising the ranks at the public accounting firm RubinBrown in St. Louis. "The curriculum that you took through the business school really prepared you for high-level leadership," Hays says. "We weren't bashful when we graduated."
As a young alumnus, Hays' involvement with Mizzou was primarily through accounting and athletics. He served as a member of the School of Accountancy advisory board, president of the St. Louis Tiger Club, and on the Intercollegiate Athletics and Alumni Association Athletic Committee. "I've always wanted to get involved as much as I can," he says.
One day, the opportunity came calling. Dudley McCarter, JD '75, met Hays while playing on opposing recreational softball teams. ("At first, I didn't like him because I could never get him out," McCarter recalls. "He had a great knack for hitting base hits.") They started running into each other at Mizzou events in St. Louis and at their kids' swim meets — the only two dads wearing Mizzou shirts. "Over the years, I've watched Steve continue to become more committed to Mizzou," says McCarter, who served as MAA president from 2014 to 2015. "I thought, 'This is a guy who needs to be on the alumni board.'"
At McCarter's encouragement, Hays served as treasurer and vice president, and he had high hopes for his term as association president, which started in July 2019. "Then the football coach was fired, a new coach was hired, our chancellor left, we had an interim chancellor — and then we had COVID-19," Hays says. "The things that I had planned on doing certainly were not the things I wound up doing. But it was a great experience."
Hays' optimism was critical during the first virtual board meeting, the first community town hall and the university's first virtual graduation. "You have to be able to pivot on a dime, and we were doing a lot of that." Committees morphed into task forces so smaller groups could work more efficiently on the most important issues at hand. And although students didn't walk across the stage to shake the dean's hand, every graduate received a handwritten congratulatory note from a Tiger.
"Despite everything that's going on, our enrollment numbers are actually up this year from last year," Hays says. "I'm really proud of that. I would not be the person I am today without my experience at Mizzou."
Robin Wenneker, BS BA '91
Managing Partner of CPW Partnership
MAA President from 2020 to 2021
Columbia, Missouri
On any given day, Robin Wenneker might talk to an accountant, an attorney, a farmer and a government official. As managing partner of her family business, which owns farm, rental and raw land holdings, she's always thinking about how all the pieces of a business work together.
This interdisciplinary approach to life is something she's been practicing since Professor Allen Bluedorn's management classes. "I don't think I had a professor before him who worked so diligently to use so many different teaching methods," says Wenneker, recalling a group project where they compared retailers Target and Kmart. "It consisted of on-site visits coupled with a report of what we observed, read and researched. He had us think about management principles from various points of view and experiences. It made me think differently about how to learn."
Serving on the Homecoming Steering Committee as a student and participating in her sorority, Kappa Alpha Theta, Wenneker connected with both students and alumni who further expanded her perspectives. "One of the things I learned in college is the benefit of building relationships with people who are not just like you," she says. "It was rewarding to have friends of different ages, demographics, backgrounds and beliefs. Everybody has something unique to share with you and something you can learn from them. I realized then how much these new friends expanded my appreciation of issues, such as the difference between rural and urban life." 
So when Wenneker moved to Denver for her first job out of college, she immediately contacted the university to see how she could be involved. She helped with résumé reviews and college fairs. When she moved to Atlanta to work for the 1996 Atlanta Paralympic Organizing Committee, she restarted the dormant MAA chapter. Each time she relocated, eventually landing in St. Louis and then back to Columbia, her involvement grew and grew, including the St. Louis Tiger Club, the Fraternity and Sorority Life Advisory Board, and the College of Agriculture, Food and Natural Resources Foundation.
For Wenneker, staying connected with Mizzou wasn't just a way to meet people. Her father, Ron Wenneker, BS Ag '60, and maternal grandfather, Homer Patrick, BS Ag '39, MA '40, attended Mizzou on scholarships. It's also a way for her to pay it forward.
This year, Wenneker is putting her interdisciplinary philosophy to work not only as one of the University of Missouri System Board of Curators' newest members but also as the president of the Mizzou Alumni Association. "It's an unusual year to be president, but I think you're put in the place where you're supposed to be at the right time to make the difference that you hope you can make," she says. "There's a continuum of people who are excited to engage, and I'm trying to help our board and volunteers find different and nontraditional approaches to connect with them. This year will force us to flex our muscles a bit and to think in new ways. That's a good thing. That's exciting."
Sabrina McDonnell, MBA '15
Executive Vice President of Business Development, Marketing, and Product Strategy at Simmons Bank
MAA President-elect from 2020 to 2021
Columbia, Missouri, and Little Rock, Arkansas
Sabrina McDonnell always planned on getting her master's degree, but, like many, she never got around to it. Immediately after graduating with a business degree from Drury University in Springfield, Missouri, McDonnell got a job at a small community bank in Columbia and married Eric McDonnell, BS Ed '82, M Ed '86, an athletic trainer for Mizzou. While her financial services and community banking career grew to include progressively responsible positions with Landmark Bank, her family grew, too.
Then, in 2012, the Trulaske College of Business launched its execMBA program, designed specifically for professionals who need flexibility around their work schedules. Then an executive vice president at Landmark, McDonnell was responsible for evaluating professional development opportunities for the leadership team. "I was evaluating it from the HR perspective and was really fortunate in that process that the CEO and the board said, 'Well, would you like to be the first student?'" McDonnell says. "I jumped at the chance."
Throughout the 21-month hybrid program (75% online), McDonnell took things she learned in the classroom and applied them to her job as well as her positions on the boards of the Columbia Chamber of Commerce and the Heart of Missouri United Way. A highlight of the program was the international residency in Chile, where the students worked with local startups. McDonnell entered the program knowing she'd earn a high-value degree. But she was surprised at the valuable relationships she formed. "You bond as a community of learners more than I ever really thought was possible," she says. "The relationships that you build with your cohort end up being the truly transformative part of the program."
McDonnell helped form an execMBA alumni group so they could stay connected — and not long after, another alumni association came calling. "A colleague I had worked on a number of community boards with" — referring to MAA Finance Committee Chair Gary Thompson, BS Ag '82 — "reached out to me and said, 'Have you thought about taking on a volunteer leadership role with the Mizzou Alumni Association?'"
McDonnell stepped into the role of treasurer for four years. Today, as president-elect, she's still applying things she learned in the execMBA program. "The other day, we were working on board expectations, governance protocols and the training for new board members, and I was reaching right back to the corporate governance class of the MBA program," she says.
She's hoping MAA assists her at her new job, too. In February, she became an executive vice president for Simmons Bank, a $21 billion financial institution operating in seven states, and now splits her time between Columbia and Little Rock, Arkansas.
"The opportunity for me — once we're not in a pandemic — to make Mizzou friends in Little Rock is really exciting," McDonnell says. "It's a strange time right now to begin again, but as soon as I said yes to that career opportunity, about the third thought I had was: 'I'll find my Tiger friends there. It'll be through the alumni association. We will have the common bond of Mizzou and that will help me begin to build a network and relationships there.'"
In the meantime, McDonnell is eager to help Mizzou alumni connect virtually. MAA is preparing for a virtual Leaders Day, where alumni can experience campus, hear from campus leadership and prepare for volunteer and leadership roles. But McDonnell isn't planning an eight-hour Zoom session.
"We've challenged ourselves to say: Can we not only adapt this, but can we also transform this? Can we make this something that in the end we won't feel like we missed out but, in fact, we've done things we've never had the opportunity to do before and engage more people than ever? Can we really make this worthy of everyone's time and as informational and inspiring as a visit to campus is? Yes, we can. We're certainly putting the elbow grease into it."