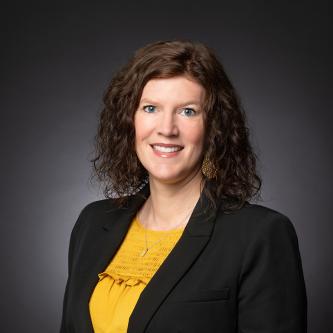 Accountancy
Kristen Hockman
Associate Teaching Professor and Nikolai Teaching Scholar
Hours
11:00am-12:00pm Tuesdays and Thursdays & 1:00-2:00pm Mondays and Wednesdays (Zoom)
Professor Hockman holds a CPA certificate in the State of Missouri. She worked in the Audit/Assurance practice of KPMG LLP in Kansas City for three and a half years. While working for KPMG, she taught Governmental Accounting as a night course for the University of Missouri for two semesters. Professor Hockman began teaching full-time at Mizzou in August 2004. She currently teaches Accountancy 2258 (Computer-Based Data Systems), Accountancy 3328 (Accounting Information Systems), Accountancy 4365/7365 (Governmental Accounting and Budgeting), and Accountancy 8444 (Advanced Audit). She has previously taught Accountancy 2010 (Introduction to Accounting), Accountancy 3347 (Cost and Managerial Accounting), Accountancy 4356/7356 (Financial Accounting Concepts), and Accountancy 4384/7384 (Audit Theory and Practice I).
Professor Hockman serves as the Course Coordinator for Accountancy 2258 and is an online instructor for BA 4500, the College of Business' Professional EDGE Internship Course. She is the Campus Coordinator for the Becker CPA Review course provided at Mizzou to help students prepare for the CPA Exam, and she serves as an online instructor for the Becker CPA Review course each semester. In addition, Professor Hockman provides her assistance to students as a Faculty Advisor for the Beta Alpha Psi professional accounting fraternity and the Alpha Phi Omega service fraternity. She is a member of the American Accounting Association (AAA), the American Institute of Certified Public Accountants (AICPA), the Missouri Society of CPA's (MSCPA), and the Government Finance Officers Association (GFOA).
She is the author of Excel Skills for Business (1st edition textbook, Great River Technologies, 2012). She has received several awards, including the 2013-2014 School of Accountancy Faculty Member of the Year Award, 2012-2013 Raymond F. and Mary A. O'Brien Excellence in Teaching Award, the 2011-2012 School of Accountancy Faculty Member of the Year Award, and the 2010-2011 Williams-Keepers LLC Teaching Excellence Award in Accountancy.
Professor Hockman is married to Jade Hockman. They have two daughters and one son. She and her husband own two Taekwondo schools in Columbia, Missouri, and she is a second-degree black belt. She enjoys spending time with her family, playing piano, reading, swimming, doing yoga and pilates, lifting weights, and playing golf.
Education
BS Acc., University of Missouri, 2000; MAcc., University of Missouri, 2000