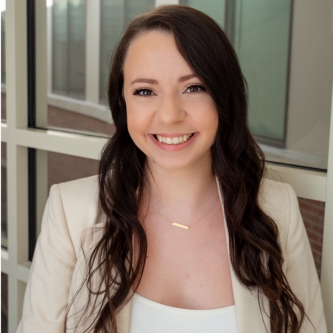 Advising, Undergraduate Dean's Office
Halsey Lecure
Senior Academic Advisor, Undergraduate Certificate Coordinator
Hours
8:00 a.m. - 5:00 p.m.
Address
700 Tiger Avenue
Columbia, MO 65211
Halsey Lecure is a Senior Academic Advisor at the Robert J. Trulaske, Sr. College of Business. She started working at Mizzou in late 2019 as an Office Support Assistant for the Department of Marketing in the College of Business where she later transferred over to the Dean's Office providing support for all three of the Departments including Finance, Management, and Marketing. In 2021, she was promoted as an Academic Advisor where she advises students on graduation requirements as well as connecting them to other services and resources on campus. Later in 2022, Halsey was promoted to Senior Academic Advisor where she coordinates all of the undergraduate certificate programs within the College of Business.
She graduated from University of Central Missouri in 2016 with an undergraduate degree in Bachelor of Science in Business Administration with an emphasis in Management. Then she continued on to graduate school where she attended Southern New Hampshire University and graduated in 2019 with a Master of Science in Higher Education Administration.
Education
M.S. in Higher Education Administration, Southern New Hampshire University, 2019. BSBA in Management, University of Central Missouri, 2016.