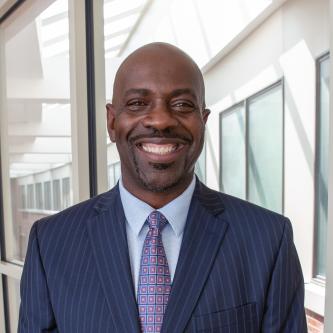 Management, Trulaske Dean's Advisory Board
Anthony Ross
Associate Dean for Research, Management Department Chair, Professor of Management, and Leggett & Platt Distinguished Professor of Supply Chain Management
Address
700 Tiger Avenue
Columbia, MO 65211
Anthony Ross is a Professor of Management, Leggett & Platt Distinguished Professor of Supply Chain Management, and Department Chair of Management at the Robert J. Trulaske Sr. College of Business, University of Missouri. Dr. Anthony Ross joined the college's faculty in August 2019. Before joining MU, he was a faculty member and the inaugural holder of the Rockwell Automation Endowed Chair in Supply Chain Management at the University of Wisconsin-Milwaukee. While there, he raised nearly $3 million in corporate gifts to support industry-university partnerships and founded/directed the Supply Chain Management Institute. He also oversaw the design and launch of a new supply chain curriculum that quickly became the largest program in the state. The program eventually received honorable mention by Gartner Supply Chain ™. Previously, Dr. Ross served on the faculties of Michigan State University and Texas A&M University.
During his 24-year career, he has designed and directed study abroad programs in supply chain management and Faculty Development in International Business study abroad programs for faculty of color. He also directed doctoral programs, delivered executive education programs and collaborated across academic disciplines. He conducts research and consults in the areas of inventory management, logistics network design, supply chain optimization, supply management and lean processes within manufacturing and service industry supply chains.
His current projects include buyer-supplier networks, transport logistics, inventory strategy and healthcare supply chains. Dr. Ross holds a BA in computer science, an MBA and a PhD in operations management and decision sciences from the Kelley School of Business at the Indiana University Bloomington.