University of Missouri Recognized with Top Honors at PBL National Leadership Conference in Chicago
Image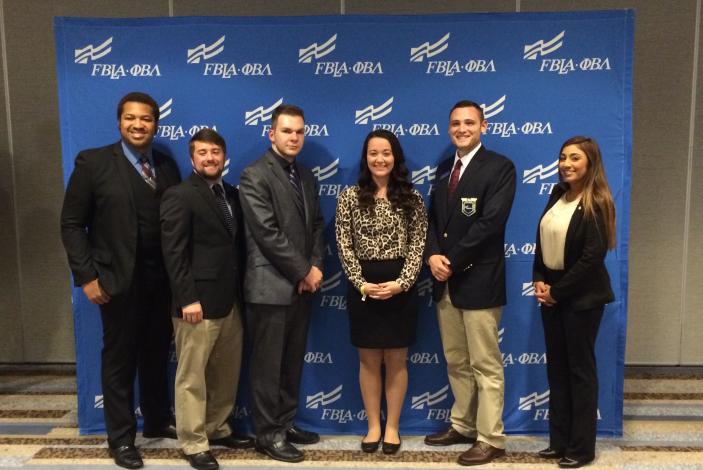 Columbia, MO, June 30, 2015 — More than 1,600 of America's best and brightest college students traveled to Chicago to Step Up to the Challenge as they showcased their talents as future business leaders and vied for the opportunity to win more than $81,000 in cash awards.
Future Business Leaders of America-Phi Beta Lambda (FBLA-PBL), held its PBL National Leadership Conference in Chicago on June 24–27. Participants from across the United States attended to enhance their business skills, expand their networks, and participate in more than 55 business and business-related competitive events.
Students from the University of Missouri earned top honors at the conference: Nick DeBrodie brought home 1st place in Music Business Management, a multiple-choice test open to all attendees of the conference. Leah Simpson and Nick DeBrodie earned 5th place in Business Presentation, a performance event in which they presented to a panel of judges about identity theft. Simpson also placed 8th in Statistical Analysis, a multiple-choice test covering probability and statistics concepts. Tyler Acklin and Evan Dodson placed 7th in Website Design by creating a website to sell paintings and then presenting their work to a panel of judges. Brynn Burns earned 9th place in Financial Concepts, a multiple-choice test encompassing subjects such as time-value of money, international finance, and capital investment decisions. The University of Missouri chapter was also recognized as the second largest local chapter in the eight-state North Central Region.
"I'm so proud of our chapter. The majority of our group had never attended nationals before. Taking home five national trophies and the award for second largest chapter is such an honor," said Leah Simpson, Mizzou PBL President.
The awards were part of a comprehensive national competitive events program sponsored by FBLA-PBL that recognizes and rewards excellence in a broad range of business and career-related areas. For many students, the competitive events are the capstone activity of their academic careers. In addition to the competitions, students immersed themselves in educational workshops, visited an information-packed exhibit hall, and attended motivational keynotes on a broad range of business topics.
About FBLA-PBL, Inc.
Future Business Leaders of America-Phi Beta Lambda, Inc., the largest and oldest student business organization, is a nonprofit 501(c)(3) education association with a quarter million members and advisers in over 6,500 active middle school, high school, and college chapters worldwide. Its mission is to bring business and education together in a positive working relationship through innovative leadership and career development programs. The association is headquartered in Reston, Virginia, just outside of Washington, D.C. For more information, visit fbla-pbl.org.