Student consultants hit upon right strategy for KC-based EyeVerify
Image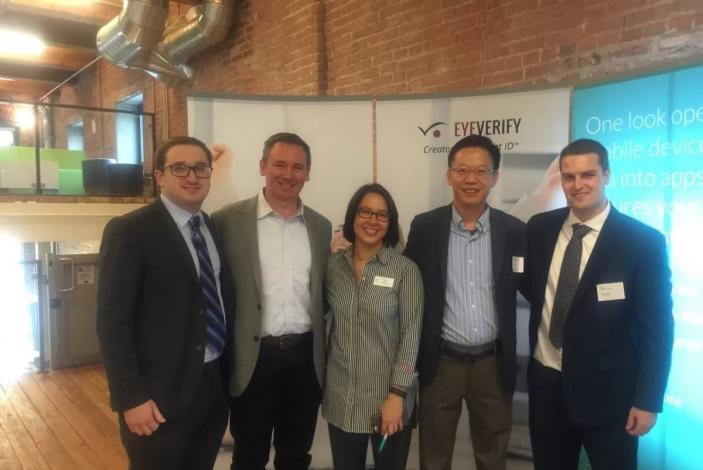 From left to right: Michael Lipnick, Trulaske College of Business student; Toby Rush, EyeVerify CEO; Tinna Hung, EyeVerify Director of Marketing; Jason Lu, Ant Financial VP; and Kevin Daley, Trulaske student. They gathered at the EyeVerify/Ant Financial Open House, at which company leadership announced its commitment to the Kansas City area as a center of technology development on Oct. 10, 2016 in Kansas City, Mo.
Three Trulaske College of Business student consultants got an especially gratifying result from their internship experience in China during the summer.
The solution that Kevin Daley, Michael Lipnick and Ryan Copeland recommended to their client, EyeVerify, a Kansas City-based software company, almost perfectly mirrored what EyeVerify was simultaneously executing without the students' knowledge. This solution resulted in an acquisition of EyeVerify, whose product Eyeprint ID provides a mobile biometric authentication solution for financial and security applications, by Ant Financial, the financial services subsidiary of Alibaba, which operates AliPay. The purchase price was reportedly about $100 million.
Kevin, Michael, Ryan and 24 other Trulaske College of Business students traveled to China during the summer for internships provided with assistance from the Missouri Department of Economic Development. Nine teams worked on separate consulting assignments from companies wishing to evaluate the potential value of entering the Chinese market. Students conducted research and company surveys while developing business plans, which included recommendations for joint-venture partnerships. Upon returning from China, they gave presentations of their recommended solutions to their clients. The clients were quite pleased with the results and are now considering how to proceed with the information and solutions provided by the student consulting teams. 
The EyeVerify team worked together with the International Trade Center, a partnership of the University of Missouri Extension Business Development Program, Missouri Small Business Development Centers and the University of Missouri Trulaske College of Business. The ITC connects businesses seeking international market research with students well-positioned to conduct and analyze relevant global opportunities and resources.