Missouri School of Journalism, Trulaske College of Business, and schools and colleges across campus collaborate with AT&T to put 5G into action
Image
Missouri School of Journalism student Tina Spreck tries out VR at the MU Institute for Innovation, Experiential Education & Entrepreneurship
Story courtesy of the Missouri School of Journalism
As part of an ongoing, multidisciplinary collaboration with AT&T to explore the use of 5G in college classrooms, students studying strategic communication at the Missouri School of Journalism are working to understand what 5G can do for healthcare.
Under the guidance of associate professor Jim Flink and in collaboration with Christy Hutton, director of the MU Wellness Resource Center, students are building on prior research performed by students at MOJO Ad — the school's professional advertising agency — to conduct research on what youths and young adults are looking for in modern mental health care. The project began as an attempt to understand why youths and young adults weren't using a mental health app offered by MU Health as much as other age groups.
"The demand for mental health resources has skyrocketed during the COVID-19 pandemic, and in today's digital society, one way to satisfy that need is by offering an app," Flink said. "And with so much demand, if people are choosing not to use that app, it's important to understand why."
Flink's students broke into four groups to conduct in-depth interviews and focus groups with students, faculty, and staff. Ultimately, they learned that an app can only go so far, especially for a generation that values ever-more-personalized care.
"Students do see phones as an extension of themselves in many ways, so there is an opportunity for a well-placed app to be a part of the solution," Flink said. "The key is that mental health is a continuum; we can't just use an app to solve every problem."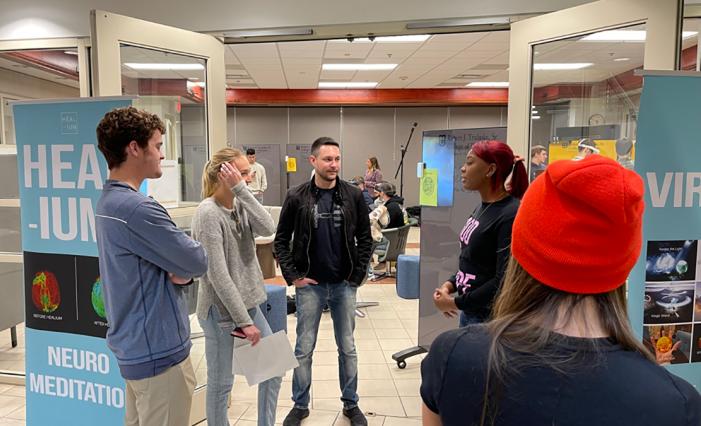 Broader impacts
As the journalism school's representative at the MU Institute for Innovation, Experiential Education & Entrepreneurship, a 5G-focused institute supported with technology from AT&T, Flink feels it is important to give his students a larger perspective on the importance of their work.
Armed with the insights gathered from their research, Flink's students attended an event coordinated by the Trulaske College of Business on Monday that showcased a form of mental health therapy using virtual reality, just one example of the technology that can arise from the type of research the class performed. The students donned VR headsets that displayed one of dozens of different experiences, from peaceful forests to awe-inspiring waterfalls, while reading the students' brainwaves in order to optimize the soothing effect of the experience.
The experience was not only a demonstration of the technology itself — a product of Healium, a local company that specializes in using virtual and augmented reality technology to address mental health — but an example of the power of the Innovation Space in Trulaske's Cornell Hall, which is equipped with 5G technology provided by AT&T and allows applications like Healium's to provide a smoother, faster, and more responsive experience.
The space is the core around which Flink and other members of the institute — including Ajay Vinzé, dean of Trulaske; Lauren Brengarth, assistant dean of student programs and assistant teaching professor at Trulaske; Annette Kendall, director of the Center for Entrepreneurship and Innovation and assistant teaching professor at Trulaske; Bimal Balakrishnan, director of graduate studies and associate professor at the College of Arts & Science's department of architectural studies; and Fang Wang, associate teaching professor in the College of Engineering — base their 5G innovation efforts. The group meets at least once a month to share discoveries, insights, and plans for the future.
Brengarth, who earned bachelor's and master's degrees from the School of Journalism, values the opportunity to collaborate with Flink and his students on a topic as timely as mental health.
"We're in the midst of a unique time in history, and one where anything we can come up with that supports mental health is very important," Brengarth said. "As a journalism grad, it's fun to be able to connect the dots and see everything come together. Jim's students are great storytellers, my students learn to incorporate those stories into business development, and the College of Engineering or architectural studies put it all together into functioning technology. We're a very collaborative group."
"This is the Missouri Method in action," Flink added. "Not only are students performing hands-on research, but they are able to experience first-hand the real-world results that can come from that kind of research. It's a great opportunity for them to see what the broader impacts of their work can look like."