Mark Burkhart Cassidy Turley Scholarship Award established for University of Missouri finance students
Image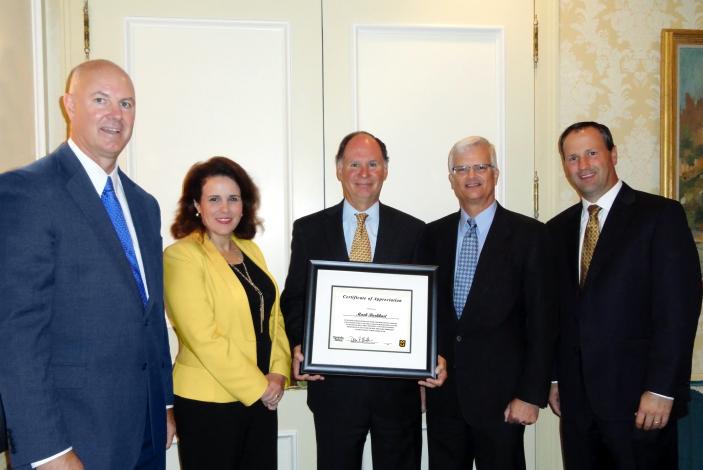 ST. LOUIS – August 26, 2014 – Cassidy Turley, a leading commercial real estate services provider in the U.S., announced today the establishment of the Mark Burkhart Cassidy Turley Scholarship Award at the University of Missouri.
The announcement came as a surprise to Mr. Burkhart, the former CEO of Cassidy Turley, during a breakfast at the St. Louis Club with Joan Gabel, Dean of the Robert J. Trulaske, Sr. College of Business; Dan French, Jeffrey E. Smith Missouri Professor of Finance and Chair of the Department of Finance; Joe Hegger, Assistant Teaching Professor of Finance; and several Cassidy Turley associates who are Mizzou alumni.
The five $4,000 scholarships will be awarded each year in support of finance students in the University of Missouri's Robert J. Trulaske, Sr. College of Business for academic study or study abroad. Priority will be given to students who select an emphasis in real estate and who show a commitment to community involvement as evidenced by participation and leadership in civic and school activities.
Students may apply for a scholarship by contacting the Trulaske College of Business scholarship coordinator in the undergraduate advising office. The first scholarships will be awarded this fall.
"We are pleased to honor Mark's contributions to the University of Missouri," said Dean Mueller, CCIM, CPM, RPA, Cassidy Turley Managing Principal. "We know first-hand through the university's internship program and the number of graduates that we have hired the caliber of Mizzou's finance graduates. We are thrilled to further assist with the development of such highly talented students."
Mr. Burkhart worked at Cassidy Turley for 36 years, 20 of which he served as CEO. As an University of Missouri alumnus, he has received the Mizzou Alumni Association Faculty-Alumni Award, the highest honor bestowed to an alumnus, and the Citation of Merit, the highest honor awarded by the Trulaske College of Business. He is a member and former chair of both The Herbert J. Davenport Society and the Strategic Development Board.
As a community leader, he has served on the Executive Board of the Boy Scouts of America-Greater St. Louis Area, the Regional Business Council, the Regional Commerce Growth Association, Ronald McDonald House and Teach for America. He has been a member of the United Way of St. Louis' Alexis de Tocqueville Society, served on Webster University's Board of Trustees and Executive Committee and served as a member and former chair of The Daniel Webster Society.
A paver honoring Mr. Burkhart's contributions to Mizzou and recognizing the scholarship award will be installed in the university's New Development Traditions Plaza.