Honoring excellence: Trulaske presents Citations of Merit, Recent Alumni Achievement Awards at annual event
Image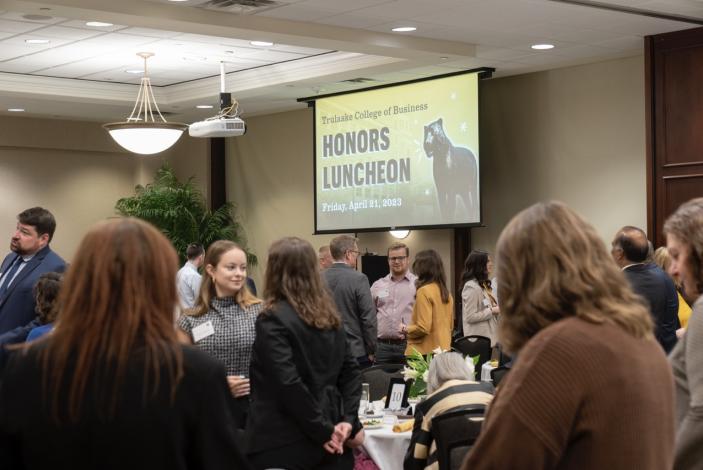 On Friday, April 21, the Trulaske College of Business recognized excellence among alumni and students at its annual Honors Luncheon event. Held in Memorial Union on the MU campus, the gathering showcased excellence in leadership, student involvement and service to the college.
Faculty and staff who were honored at the Celebration of Success event were recognized in the luncheon's program.
CITATION OF MERIT
Annually, up to ten Trulaske College of Business Citations of Merit are awarded. The recipients are selected by a vote of the entire faculty of the college. In deciding upon those individuals to be placed before the faculty, the FacultyPolicy Committee reviews each candidate in relation to accomplishments in his/her career; involvement with the college through board activities, recruitment or other collaborative programs; and financial support of the college.
John Passanisi, BS Acc '93
Senior Partner, Technology Practice
Ernst & Young
Steven P. Rasche, BS Acc '82
Executive Vice President and Chief Financial Officer
Spire, Inc.
Thomas H. Weaver, BS BA '72, MBA '73
Senior Portfolio Strategist and Risk Manager (Retired)
Eagle Trading Systems
Allyson Witherspoon, BS BA '99
Corporate Vice President and Global Chief Marketing Officer
Nissan
Philip B. Wright, BS BA '79
Partner
Bryan Cave Leighton Paisner LLP
SPECIAL CITATION OF MERIT
Scott Stuckenschneider
Senior Vice President of Supply Chain
Huhtamaki, Inc.
RECENT ALUMNI ACHIEVMENT AWARD
The Recent Alumni Achievement Award recognizes outstanding volunteer support of the Trulaske College of Business as well as the professional accomplishments of alumni who received their degrees 15 or fewer years ago. The award is presented annually to a maximum of two alumni. Recent Alumni  Achievement Award nominees are screened by the Faculty Policy Committee and approved by the college's faculty. Selection criteria include active involvement with the college through advisory boards or other collaborative activities; professional accomplishments early in his/her career; and a demonstration of leadership for or inspiration to students and other alumni through participation in university or college events and/or social and community service.
Josh Hyde, BS BA '16
Founder & Managing Partner
Bluestar Legacy Services
STUDENT AWARDS PRESENTED AT THE HONORS LUNCHEON
Edward J. Rapp Excellence in Leadership Award
Tobias Davis, Lucas Hayes, Greg Pierson
Undergraduate Student Leadership Award
Kaile Kalton, Dylan Kay, Cade Koehly, Anna Metzger, Autumn White
Delta Sigma Pi Scholarship Key
Danielle Bishop
Emerging Leader Award
Sean Segasture
STUDENT ORGANIZATION AWARDS PRESENTED AT THE HONORS LUNCHEON
Alumnus of the Year
Michael G. Weiss, BA '95, M Acc '97
Faculty Member of the Year
Associate Teaching Professor Melissa Griswold
Staff Member of the Year
Charlie Frey-Méndez, School of Accountancy
TOP FIVE STUDENTS IN EACH PROGRAM
ACCOUNTANCY
Michael Clement, Luke Distler, Grace Henley, Caroline Lyman, Brian Venhaus
ECONOMICS
Lucas Hayes, Clare Herrington, Charlie Meier, Carson Schieber, Dylan Stovall
FINANCE
Danielle Bishop, Tyler Hagan, Adam Henn, Samuel Varnon, Reed Wilks
INTERNATIONAL BUSINESS
Danielle Bishop, Lucas Hayes, Aris Holman, Paige Lannerd, Lauren Sherwood
MANAGEMENT
Jason Frost, Tyler Kieny, Priyanka Patel, Addi Simms, Brock Stewart
MARKETING
Lexie Bentley, Mackenzie Burnett, Lucas Crow, Hailey Gudynowski, Audrey Stowe
REAL ESTATE
Hannah Butros, Luke Davis, John Gregory, Tyler Montgomer, Blake Villhard
View this year's remarks: