Four Trulaske alumni among 2023 Mizzou R.A.H. awardees
Image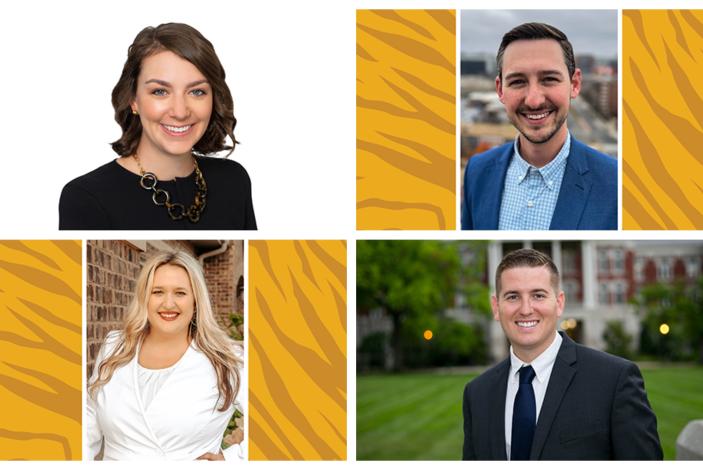 Article courtesy of Mizzou Alumni Association. 
The Mizzou R.A.H. Award (for Recent Alumni Honorees) sheds light on the incredible things young alumni are doing across the globe.
Candidates for this award are 35 years or younger and have shown exceptional professional achievement, along with a demonstrated record of volunteerism, both on campus and in their local communities.
Applications open each January, and winners are announced in June.
Meet the 2023 class of Mizzou R.A.H. award recipients from the Trulaske College of Business: 
Alex Demczak, BA '14
CEO, Keynote Speaker, Author — Streamline Books
Columbia, MO
"I'm passionate about helping high-performance leaders take the next step on their leadership journey. I authored Thrive U; a collection of stories from 100 collegiate and professional athletes from across the country, and serve as co-founder & CEO of Streamline Books, a company that helps individuals write, edit, and publish their own book. I'm also a keynote speaker and trainer for the Jon Gordon Companies, where I help leaders transform their teams and change the world."
Elyse Hartley, BS BA '10, JD '14
Attorney — Ozarks Elder Law
Springfield, MO
"I became a partner at Ozarks Elder Law in January 2020. Our firm is a boutique estate planning and elder law firm made up of all female attorneys. We help families get their estate planning wishes in writing and help them navigate the difficult process of placing a loved one in a long-term care facility. It is very rewarding legal work and I love my career."
Cara Hartwig, BS BA '16
Vice President — TPG Growth, Rise and TPG NEXT Capital Formation
San Francisco, CA
"I work in the private equity industry, where I lead fundraising and investor relations for three platforms: TPG Growth, a global growth equity platform, The Rise Funds, a global social and environmental impact investing platform, and TPG NEXT, a platform focused on seeding and supporting underrepresented and diverse emerging asset managers. As part of my work, I have collectively been responsible for the execution of $15B in fundraising campaigns."
Bo Mahr, BS BA '14
Attorney — Husch Blackwell LLP
Washington D.C
"Putting my work in the financial and clean energy space together, I recently co-founded Ridge, a sustainable neobank, in an attempt to leverage my business degree from Mizzou and my history in clean energy law to bring about a sustainable debit, credit, and savings accounts to customers across the country. We're currently on our way to raising one of the largest pre-seed rounds in West Virginia history."