Cultivating tax careers: KPMG's national tax recruiting partner visits Trulaske
Image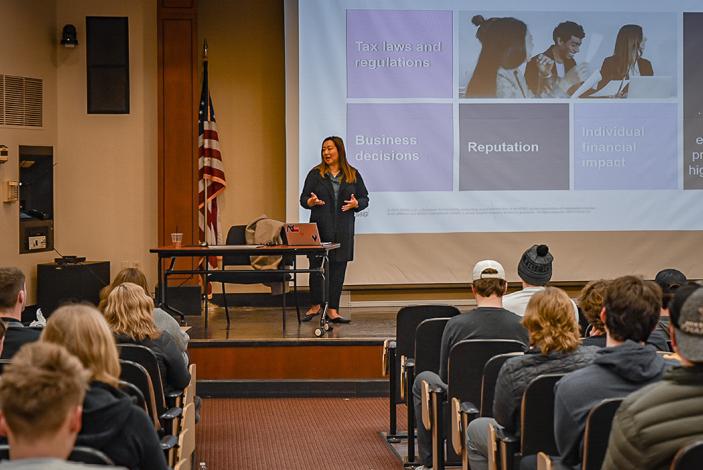 By Kylie Groh
This February, KPMG's National Tax Recruiting Partner Vivian Wang paid Stevie Neuman's Tax I Class a special visit. Vivian Wang and Jerry Briggs, a St. Louis KPMG tax partner, shared the presentation, "Grow Your Career in Tax," with almost 250 students.
Prior to her presentation, Wang held office hours for students to seek advice about the accounting profession and tips for securing a job post-graduation. Wang finds tremendous value in building relationships with aspiring professionals.
"People are the heart of our business," Wang said. "We're getting great talent from Mizzou. We want to make sure that we get leadership out to Columbia. In my role as the tax talent leader in charge of campus recruiting, this was my first stop."
KPMG offices in St. Louis, Kansas City and Chicago all frequently benefit from Mizzou hires. This can be attributed to the efforts recruiters make to establish connections with students well before graduation. KPMG maintains a presence in Cornell Hall by participating in many events organized by Business Career Services, including informational panels, mock interviews and career fairs.
In addition to recruiting students, KPMG supports accounting programs across the country, including Trulaske's School of Accountancy, to "drive practical use of the latest analytics technology and meets its vision of making KPMG the employer of choice where underrepresented talent can build thriving careers." The KPMG Master of Accounting with Data Analytics (MADA) Program was created out of a desire to equip students with a background in data analytics.
"Data analytics is changing our profession in every single way possible," Wang said. "And so the firm has invested in that."
This partnership provides the Trulaske College of Business with KPMG software, curricular resources and faculty training opportunities. The MADA program serves to keep curriculum in line with field advancements.
In the fall of 2022, the School of Accountancy announced the furtherance of its relationship with KPMG through MADA Scholars. Yearly scholarships are awarded to master of accountancy students who embody respect for inclusion and diversity.
These curricular and financial contributions continue to magnify the bond between KPMG and Mizzou's School of Accountancy.