$6 Million Gift Endows Leadership Program for Business Students
Image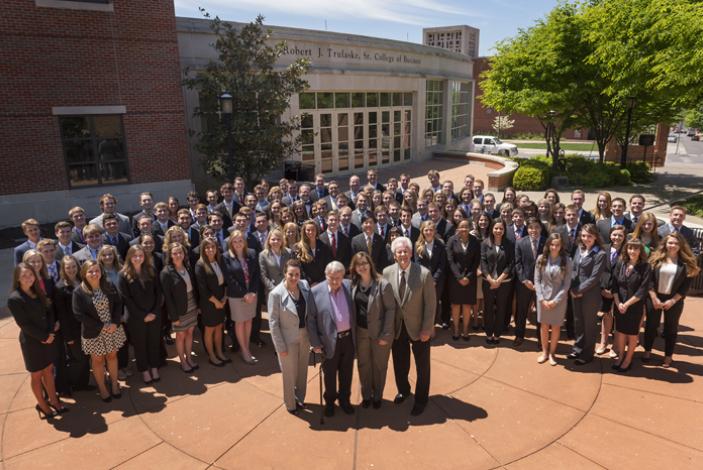 COLUMBIA, Mo. – Harry Cornell, a resident of Joplin, Missouri, has given $6 million to the University of Missouri Robert J. Trulaske, Sr. College of Business to fund the Cornell Leadership Program (CLP) in perpetuity. The CLP is a highly selective, nationally recognized, 4-year program for the top students in the MU Trulaske College of Business. The CLP was created in 2006 by a previous gift from Cornell.
This new endowed gift will provide permanent support for the program and bring Cornell's total giving to MU to more than $13 million. Cornell's previous gifts also supported construction and enhancements of Cornell Hall, the main academic building for the Trulaske College of Business.
"I feel fortunate to have the ability to pay back my alma mater for the great education I received years ago," Cornell said. "I hope this gift and the continuation of the leadership program will not only give the Trulaske College of Business an additional tool to recruit the best students in the state and nation, but also will provide educational and career opportunities for MU's best and brightest students that they may not otherwise be offered. The program has been very successful so far, thanks to the great leadership in the college, and I hope this gift will continue that success far into the future."
The Cornell Leadership Program accepts only the most qualified incoming freshmen to the MU Trulaske College of Business, although upperclassmen are allowed to apply for entry their junior year as well. Graduates of the CLP are some of the most sought-after MU alumni by businesses around the state and nation. The CLP provides member students with opportunities for education and leadership development including: 
Field trips to different corporations across the state and country
Mentoring from alumni and upper-level business students
Participate in a leadership seminar designed especially for CLP students
Lectures and presentations by business leaders from around the country
Participation in luncheons with visiting business executives and scholars.
"The Cornell Leadership Program is a great example of the high-touch, experiential programs we offer in the Trulaske College of Business. The CLP has helped us educate class after class of students who are well-prepared to be leaders in their careers and lives," said Joan Gabel, Dean of the Trulaske College of Business. "We are so grateful to Mr. Cornell for his vision and incredible generosity to our college and our bright students."
 "Providing a top-tier education for our students is a priority for this university," MU Chancellor R. Bowen Loftin said. "Mr. Cornell's continued generosity is enabling us to address that priority. By helping MU train future business leaders, he is supporting generations of students in achieving their academic and career aspirations."
Harry M. Cornell is a chairman emeritus of Leggett & Platt Incorporated, a Fortune 500 company headquartered in Carthage, Missouri. He earned a bachelor's degree in business administration from MU in 1950 and became president and CEO of Leggett & Platt in 1960. Under Cornell's leadership, the company became a national leader in the coiled bedsprings industry. Cornell was awarded an honorary doctorate of law degree from MU in 2003.