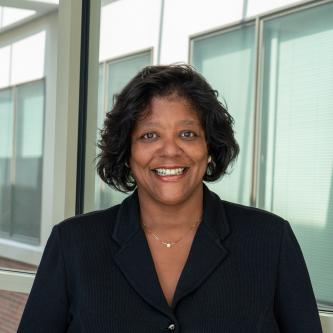 Inclusion, Diversity and Equity, Dean's Office
Erika Aaron
Director of Inclusion, Diversity, and Equity
Erika Aaron is the inaugural Director of Inclusion, Diversity and Equity at the Robert J. Trulaske, Sr. College of Business. In this role, she develops, manages and supports initiatives that promote an equitable and inclusive community in the college; develops and implements programs to support the needs of all faculty, staff and students; and offers recommendations for innovative best practices in inclusion, diversity and equity to all college constituents.
Prior to joining Trulaske, Aaron was a faculty recruitment and engagement specialist for the University of Missouri Division of Inclusion, Diversity, and Equity, where she focused on equity within the academic recruitment process – expanding recruiting pipelines and partnerships for schools and colleges, developing faculty hiring guidelines and hiring rubrics for search committees, defining inclusive recruitment processes, and developing and implementing education programs for search committees to ensure they understood inclusive interviewing techniques. She worked with undergraduate research teams to explore cultural competence and generational work teams in research settings, and she contributed to critical conversations of social justice at the university by bringing iconic figures such as Andrew Young, former United States Ambassador to the United Nations, to campus to have conversations about diversity and inclusion with university stakeholders. She also managed a major campus initiative, which utilized research data from the American Council on Education, to inform the campus community about steps that can be taken to recover from a racial crisis and actions that should be used to build the capacity for inclusion at the University of Missouri over the coming years.
Before joining the university, she was a global marketing and communications consultant with Community Consent; corporate director of community engagement and communications for Waste Management in Atlanta; associate manager of national consumer marketing programs for Coca-Cola in Atlanta; and marketing manager in the Integrated Digital Enhanced Network Division at Motorola in Schaumburg, Ill.
A native of Jefferson City, Missouri, Aaron holds a bachelor's degree in marketing from Hampton University, an MBA from Roosevelt University and a certificate in corporate citizenship management from The Carroll School of Management at Boston College.
Aaron's community involvement includes service as marketing and communications chair of the Central Missouri Chapter of The Links, Incorporated; as a member of the Central Missouri Chapter of Jack and Jill of America, Inc.; and as president of the Jefferson City Alumnae Chapter of Delta Sigma Theta Sorority, Inc. Aaron is a widow and lives in Columbia with her two boys, Carl Jr. and Christian Aaron.